ASTM-International Cannabis Standards
February 15, 2020 · 1 minute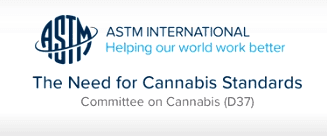 It may sound odd that ASTM-International is developing standards that apply to the legal cannabis industry as it emerges around the world. Just like other consumer product industries, consumer safety is critical.
Jet Stream Innovations lead the development of an ASTM-International standard for the practice of planning and conducting professional audits in the cannabis industry. This standard is the first of several audit standards to be written by ASTM-International's cannabis standards committee.
Jet Stream Innovations develops audit programs based on industry standards and regulations. For the cannabis industry, the audits address cultivation, processing, manufacturing, product testing, packaging & labeling, procedures & records, facilities, security & safety, and operational quality.
This ASTM audit standard identified as D8308 provides a set of actions, requirements, and responsibilities to produce accurate and useful reporting of audit findings. The audit standard describes the details to develop audit protocols, the questions that guide the collection of evidence.
Why have standards?
Every state in the U.S. and many countries around the world have had an active cannabis industry for decades, albeit illicit. In recent years, this industry is becoming a legal and regulated industry. Over one-half of the states have some form of legislation that allows for the legal cultivation, processing, and consumption of cannabis and cannabis products. Government agencies are drafting regulations without common standards. This creates confusion and challenges, especially for suppliers that support industries across many jurisdictions such as the manufacturers of fertilizers, pesticides, security equipment, financial institutions, lawyers, and accountants.
The 2019 outbreak of lung injury associated with the use of vaping products exemplifies the need for standards. Standards set specifications for the quality of products, the procedures used to reliably produce safe products, child-resistant packaging, accurate labeling, and test methods to ensure that the products are safe and meet the specifications as labeled. Many existing standards and good practices from agriculture, food processing, pharmaceutical, and product testing are being adapted for this emerging industry.
To learn more about the development of standards, designing audit protocols and programs, or conducting assessments and audits contact us.
---